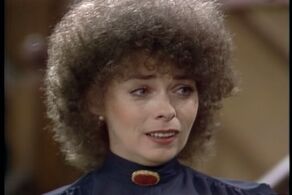 Miss Emily Mahoney (portrayed by Jenny O'Hara) was a history & science teacher at Eastland Academy during the first season of "The Facts of Life."
Miss Mahoney is a stickler for rules and was constantly challenged or undermined by Mr. Bradley. She mainly assisted Mr. Bradley and Mrs. Garrett in teaching the girls.
Miss Mahoney only appeared in the first four episodes of the series' first season.
Ad blocker interference detected!
Wikia is a free-to-use site that makes money from advertising. We have a modified experience for viewers using ad blockers

Wikia is not accessible if you've made further modifications. Remove the custom ad blocker rule(s) and the page will load as expected.