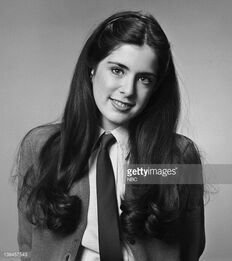 Felice Schachter (born on November 17, 1963 in New York City, New York) is an American actress who portrayed the role of Nancy Olson on "The Facts of Life."
Biography
Edit
Felice began modeling when she was 6 months old when she appeared on the cover of "American Baby" magazine. She later did commercials for Pampers, Ivory Snow, Baby Alive, Downy and Jordache jeans.
At the age of 8, she began studying at the George Balanchine School of Ballet and later joined the New York City Ballet Company.
Felice began her career in show business in 1978, appearing in two off-Broadway plays called "The Innocents" and "Time Again." She was the first girl to be cast in the "Facts of Life."
Later Career
Edit
Felice was the first cast member to be dropped from "The Facts of Life" when the show was re-tooled after its first season. She would continue to make guest appearances on the show until 1986.
She later appeared in other TV series such as "Alice" & "E\R" and also appeared in the 1982 film "Zapped" (starring Scott Baio).
Felice would later move on to film production where she worked as an assistant director, producer and production assistant. She also made infomercials, commercials and corporate films. She even did sports broadcasting for CBS Sports and PRIME, mainly with NHL assignments.
As of 2007, Felice works as a special education teacher in New York City and has a son named William (who was born in October 2005).
Is the daughter of Suzanne Schachter (née Mokotoff), a theatrical manager and Alex Schachter, a real estate developer and accountant.
Has two sisters: Simone & Janine.
Auditioned for the role of Kimberly on "Diff'rent Strokes," but didn't get the part.